Be at the top of search to stay top of mind.
ASO increases your app's search ranking and is the largest discovery channel available for your app. As a result, it is the major driving force for app downloads. Additionally, it can increase brand exposure, positive app reviews, audience engagement and tie together your omnichannel marketing strategy.
In this article, we're going to cover the best practices of ASO for every stage of your mobile journey. Remember, ASO isn't one single task or strategy you implement to boost your app to the top of the app store, there are multiple factors that should all be strategically optimized to stand out against the competition.
What is ASO?
ASO is a technique to increase the visibility and ranking of a mobile app in the App Store and Google Play Store search results. What SEO (Search Engine Optimization) is to a website, ASO is to a mobile app.
Why is ASO important?
There are more than 2 million apps on the market, so building a great app is no longer enough. "If you build it, they will come" no longer holds true. It's time to invest in ASO to drive app discovery and boost conversions. This means that the higher your app ranks in an app store's search result, the more discoverable it is to your potential customers. This will in turn increase traffic to your app's page so searchers can actually download your app and make a purchase – in fact, Apple search ads' average conversion rate is 50%. In addition, ASO can help you save on paid marketing efforts when done right.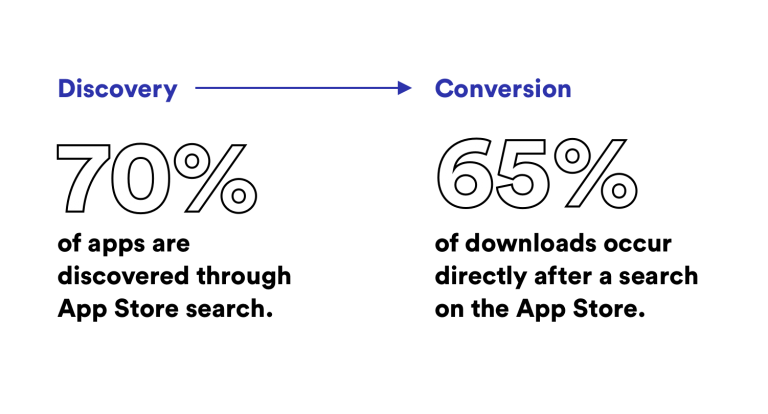 ASO Tips & Tricks
Boost ASO– everyone wants it, but traditional backlinking takes a lot of time and attention to build a strong online reputation. Instead, here's how you can easily boost your ASO to create a strong mobile app presence:
Include Keywords in your App Title
Let's look at the difference between "Harney & Sons" and "Harney & Sons Fine Teas". If you were a longtime customer of
Harney & Sons
, searching their name is an easy way to find them. But what if you're searching for "tea"? Including keywords in your app title will increase your visibility and ranking by up to 10.3% (
source
).
App Subtitle
The subtitle for your app is the perfect opportunity to sprinkle in a few more keywords you couldn't fit in your app title. You have 30 characters or less, so make sure the keywords you use are strong to your product, service, or brand.
Mobile-Friendly App Store Description
Up to 5% of users will click the "see more" button on your App Store listing (
source
). This means you should utilize the 252 characters you have before the "see more" fold to your advantage. Remember to write your copy thinking mobile-first; bullet points and emojis will improve readability.
Screenshots for User Education
60% of people won't swipe past the first 2 screenshots in your App Store description (
source
). Avoid screenshots including login, registrations, purchase forms, ads, and even "Welcome" screens and instead focus on showing popular screens that explain why your users should love your app.
Ratings for Credibility
Having a rating of 4 stars or more will increase downloads by up to 50% (
source
). Consider offering a discount or exclusive product in exchange for shoppers who download your app and give it a host review to build a great reputation.
Understand your target audience
Figure out what your potential customers are using to find apps similar to yours in order to choose the perfect keywords.
Research your competitors
Make sure to do your research by checking out competitor keywords and looking for suggestions from autocomplete in the Apple and Google Play Stores.
Analyze your ASO!
Check this out
ASO analyzer tool
for a comprehensive report for not only your own app but your competitor apps as well.
For reference, here are the required fields of the app store listing. As we just covered, the App Store listing is critical for users to find your app in the Apple App Store and Google Play Store because it holds details about your app that will be publically visible on the App Store.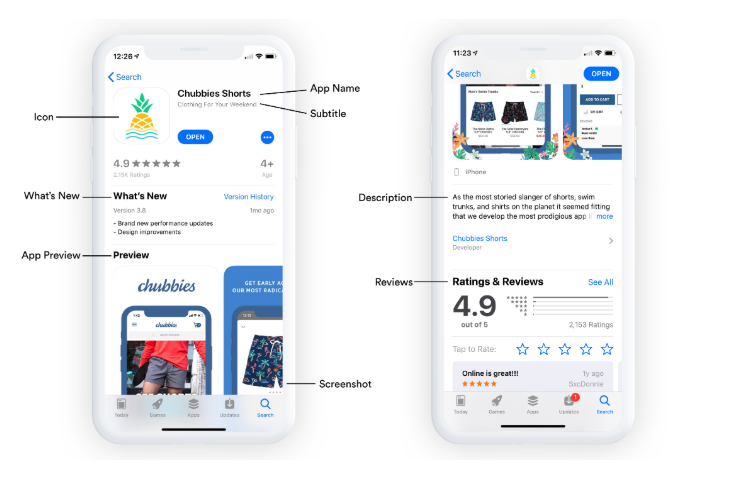 Ultimately, there are many factors you need to consider when launching an iOS app. From keywords and app descriptions to screenshots and reviews– everything needs to be strategically optimized to stand out against competitors.
If you are curious about how an app can optimize your mobile app strategy,
book a demo
.