The future of customer engagement.
We are literally and figuratively always glued to our phones – we no longer get our morning news from a newspaper or keep a map in the car. Phones have revolutionized everything we do and shopping is no exception. In fact, over 67% of today's online shoppers are now browsing on a mobile device (
source
).
Push notifications are an effective way to capture the attention of your customers as a compliment to your digital marketing campaigns. Use real-time communication to generate a steady stream of sales and create interactive messages to keep shoppers coming back for more.
The Benefits of Push Notifications
Push notifications enable you to generate traffic and sales on demand without having to rely on third parties or paid marketing efforts. Compared to traditional email, push notifications receive 50% more opens (
source
). That's 50% more opportunities to entice your customers with your brand's updates from product launches, flash sales, app exclusives and events. They also have 10x better conversion rates when compared to email and SMS because they immediately capture your users' attention (
source
).
Successful Push Notification Strategies
Push notifications are easy to implement and when best practices are followed, they are powerful. You need a winning game plan. Here are some amazing examples of push notifications in action:


Announce New Products & Collections.
Generate excitement from your shoppers for everything new - whether it be a seasonal collection or a single product. Shoppers downloaded your app for a reason - because they care about your brand. They want to 'be in the know', so say thank you by giving them a sneak-peak and access to your latest launches. Build suspense with upcoming release dates to keep customers on edge. This simple strategy will improve brand loyalty and retention.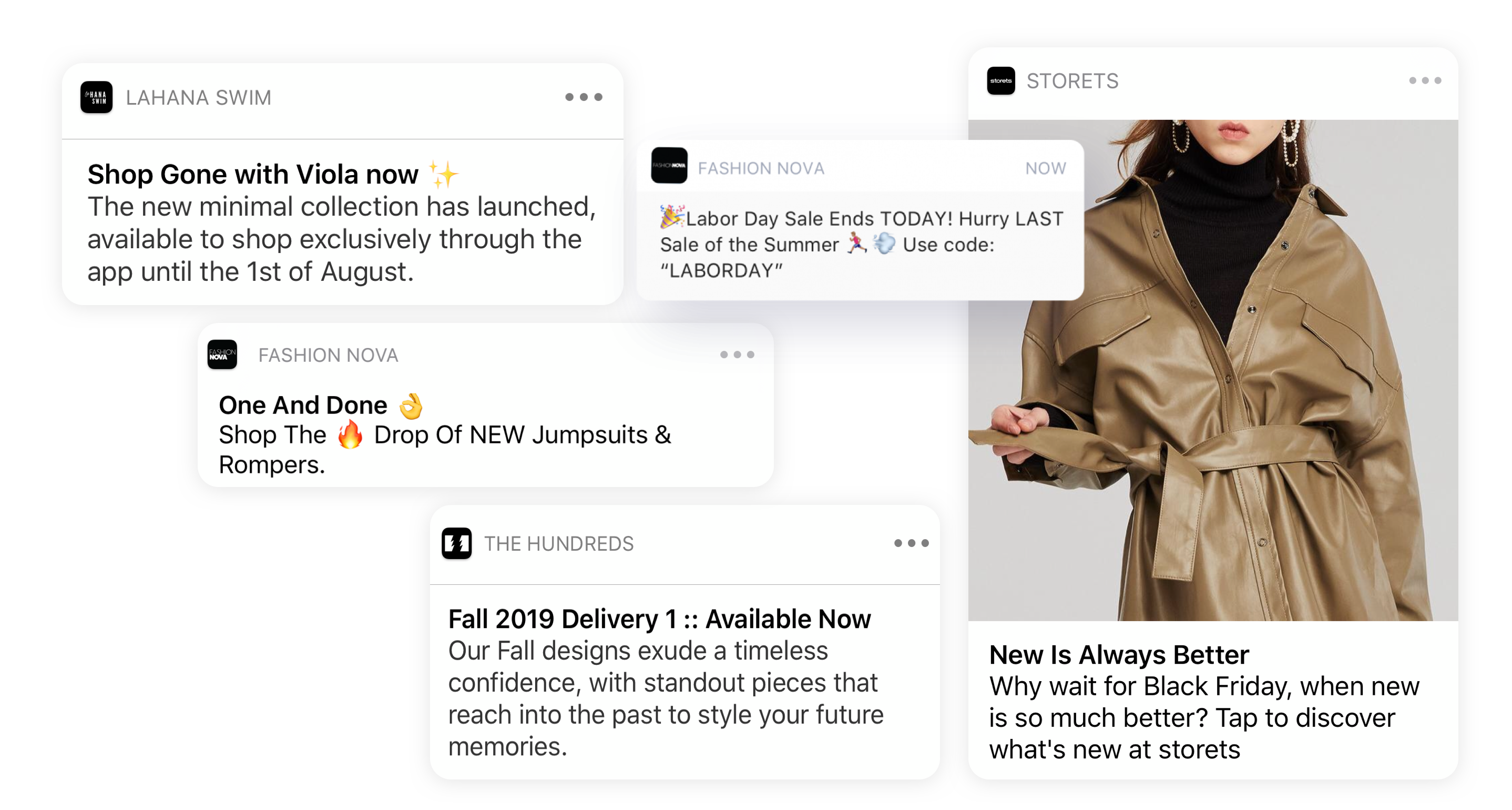 Utilize App-Exclusive Deals.
Use push notifications to announce app-exclusive deals and you'll be sure to get traction with your app. Discount a product and let your push notification subscribers be the first to know about it. Share new product releases or valuable content to generate interest and drive traffic to your store.
Customers are 8x more likely to buy when using a discount code.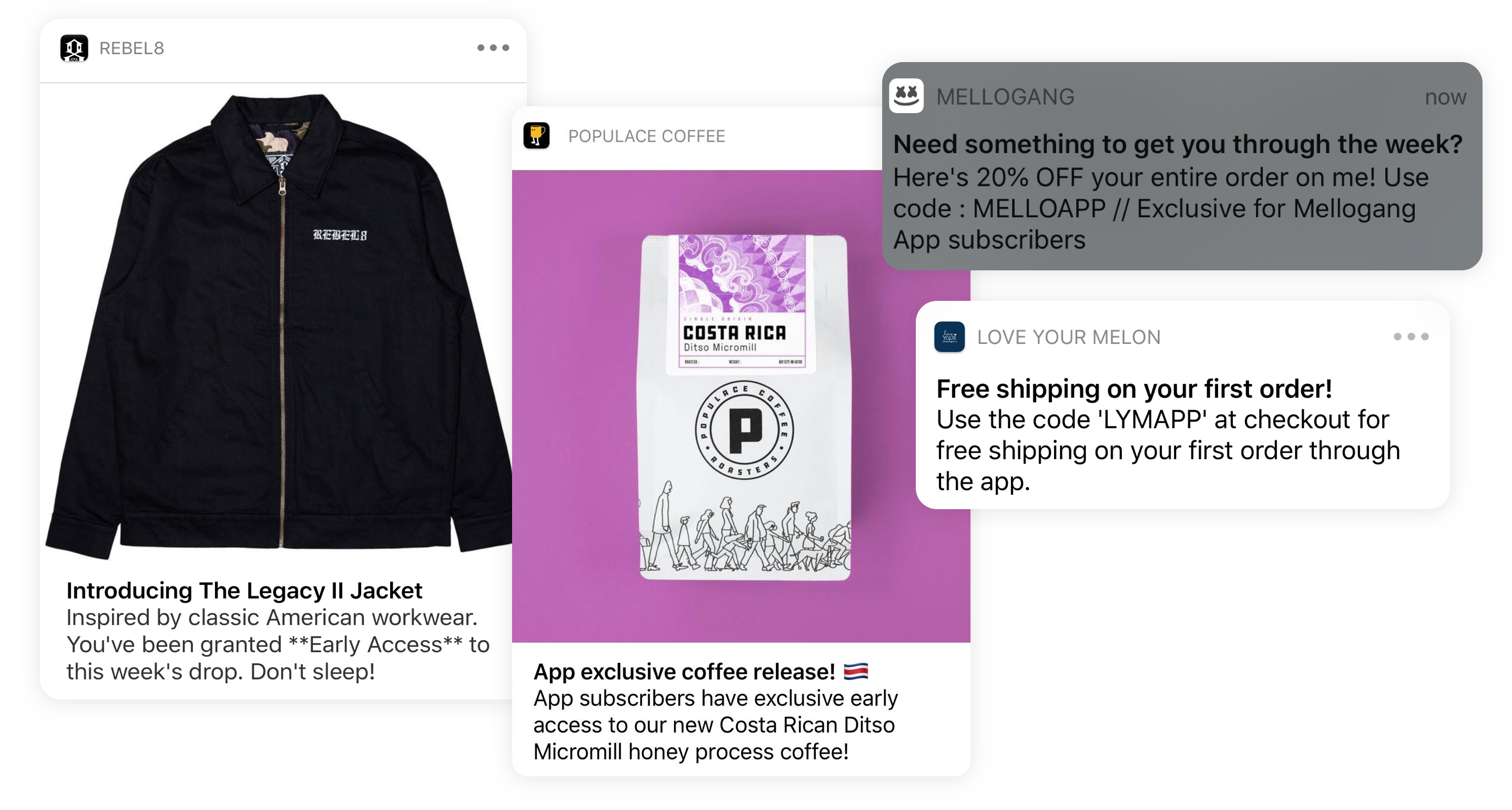 Build Excitement with Flash Sales.
Adding a deadline to a flash sale or exclusive can be that final push a customer needs to take action. But using language that conveys a sense of urgency is key. Limited time gives customers no other option than to buy now.
Fashion Nova's Labor Day 30% off flash sale was a huge success. They updated their mobile app and website to optimize for the sale: landing screens to visually show products on sale, discount code banners at the top of their site, and sent out several push notifications.
One push, in particular, showed an incredible conversion rate from browsers to buyers. After sending a final promotion reminder to their mobile subscribers, sales jumped by over 40% in just one day. Check out what they did: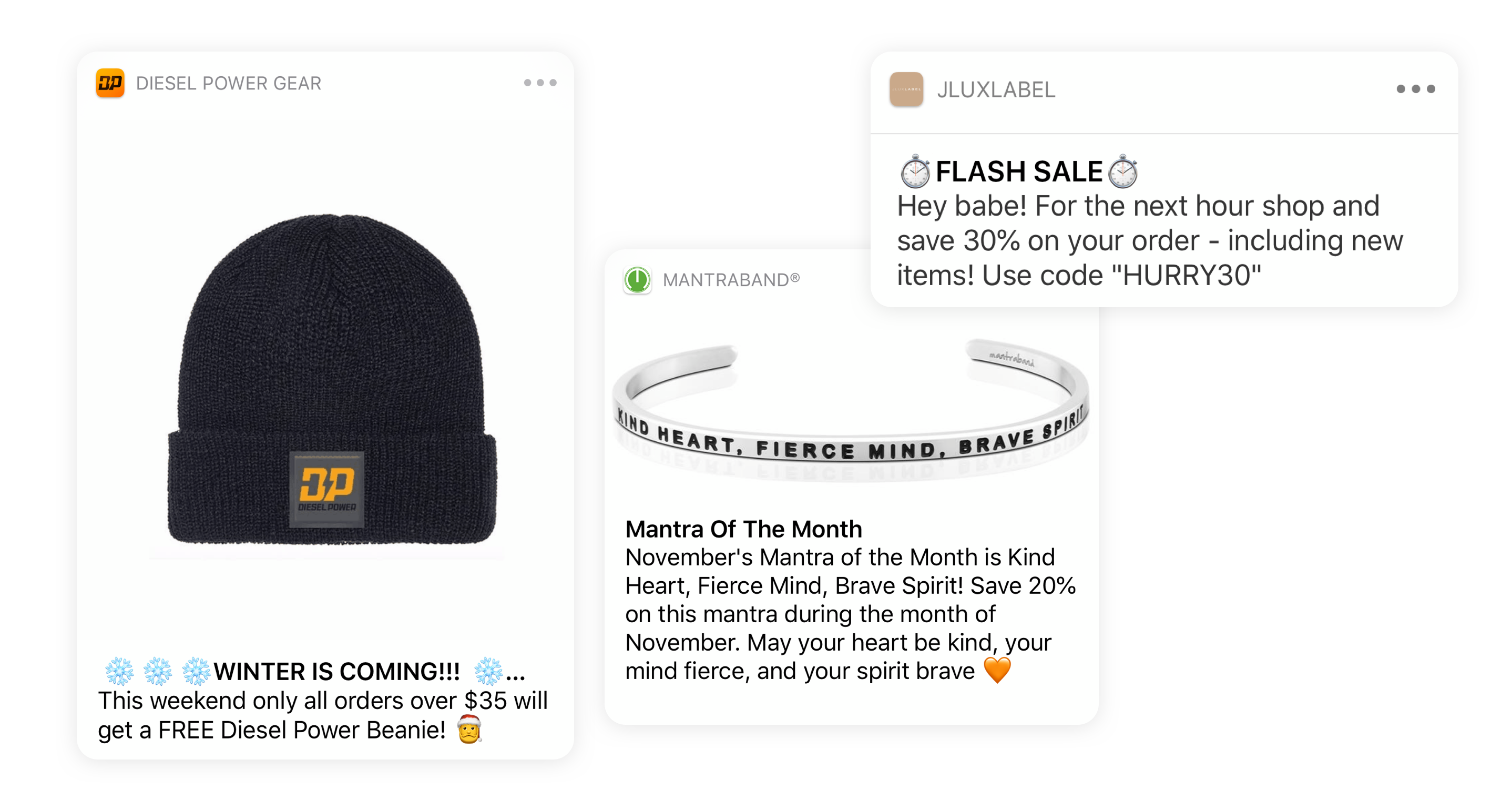 Highlight Back-in-Stock Items.
Keep shoppers in the loop by sending push notifications for back-in-stock items. Make sure to use time-sensitive language like, "get them before they're gone", "don't miss out", and "the time is now! ⏱". This is an extremely effective way to get customers to act now.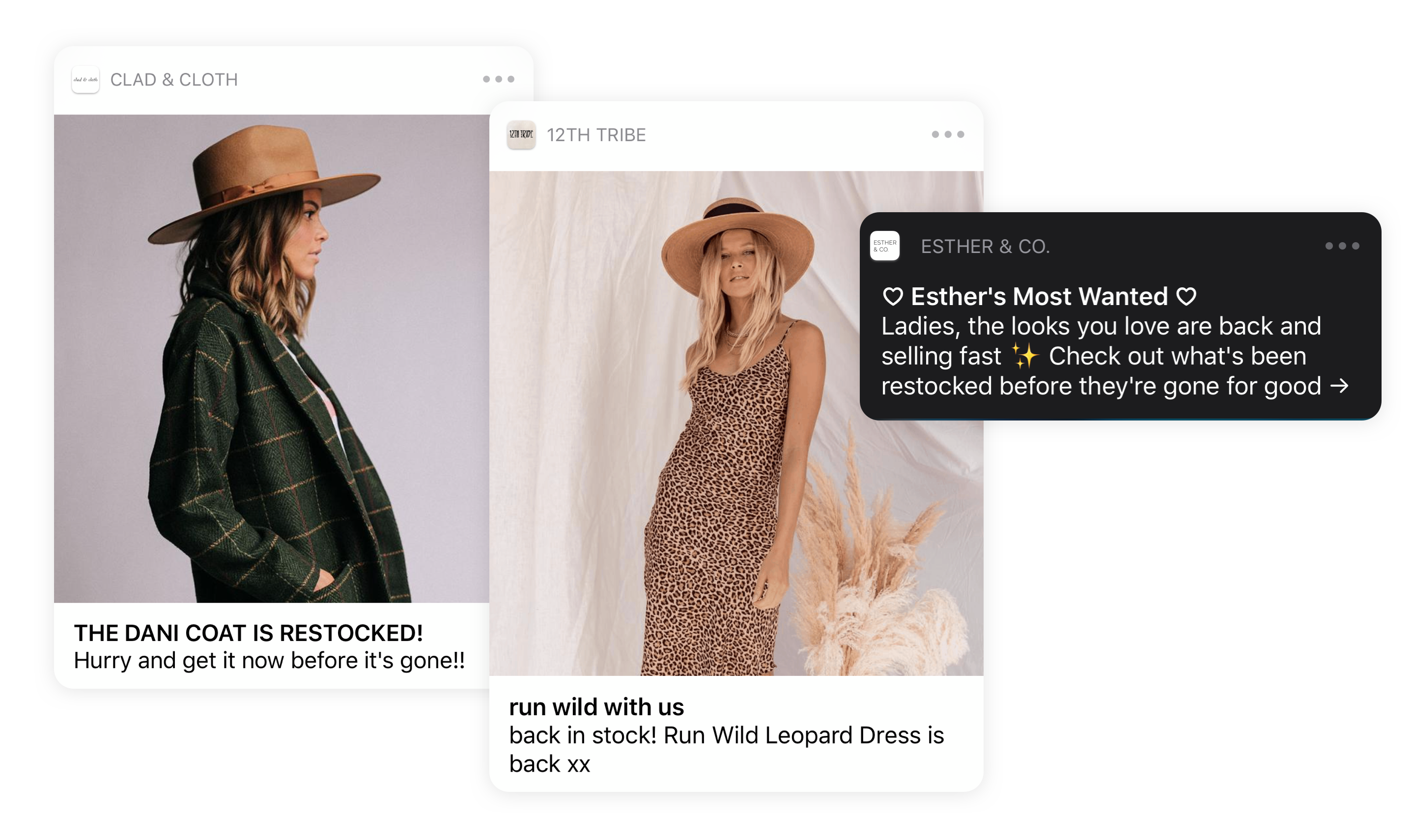 Promote Your Omnichannel Marketing.
Mobile is a critical avenue for omnichannel growth. It's not just about completing the sale through the app, but rather about driving research, consideration, and loyalty. Use push notifications to support your brand's efforts across all channels, from social media to brick-and-mortar updates.
The Ace Family uses their Youtube channel to not only sell products on their Shopify store but also to get app downloads and push notification subscribers. Within 3 months of having a mobile app, they were able to rack up over 1.4 million push subscribers.
The Ace Family once sent out a push notification announcing a new video on their Youtube channel. Within a few hours, they reached over a million views in addition to generating over 30% more sales via their mobile app compared to their desktop store.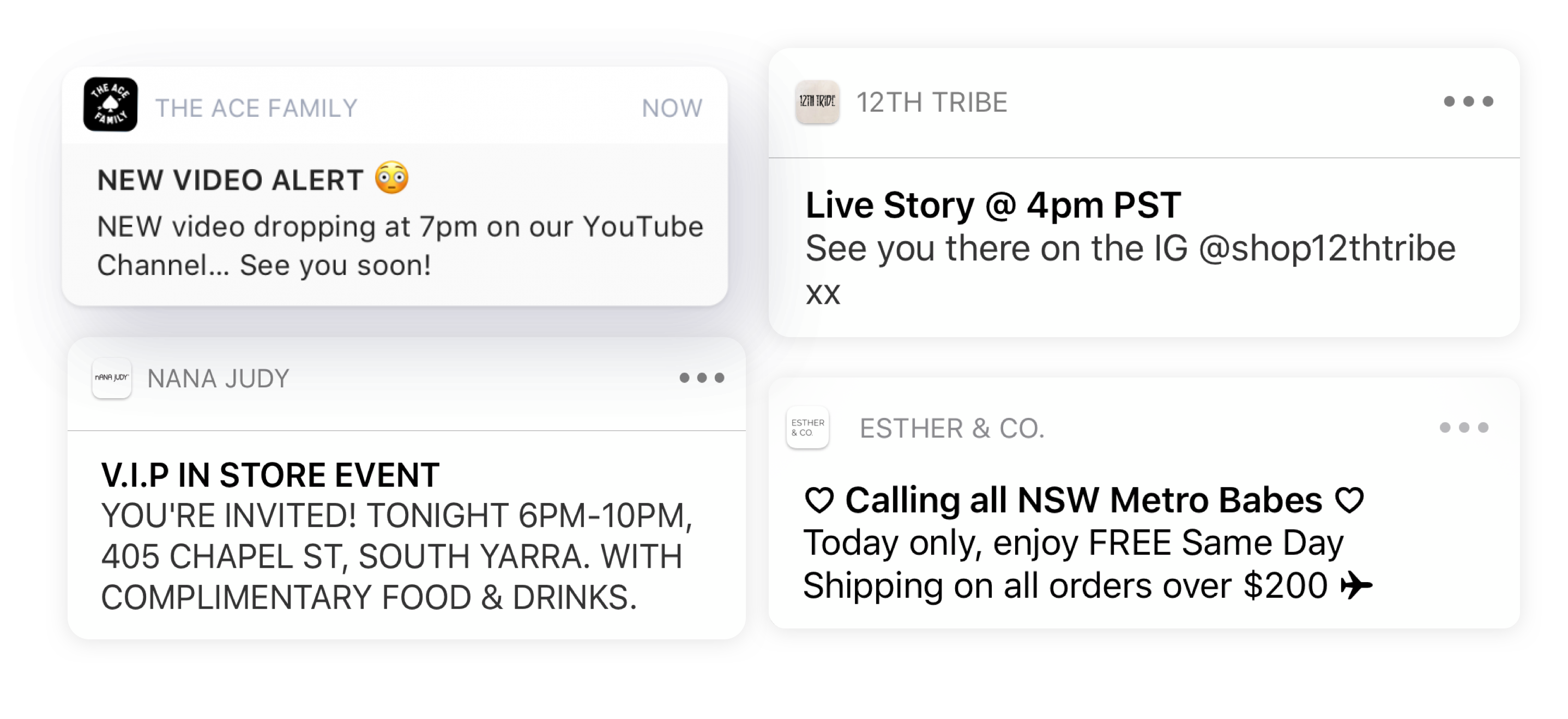 Let Your Brand Personality Shine.
Reaching out to your shoppers with on-brand push notifications is a smart way to stand out. The average person in the US receives around 45 push notifications. Sending push notifications that are personable and on-brand will get your shoppers' attention and encourage conversion.
This strategy is also a great excuse to send push notifications regularly and stay top of mind. Customers have opted-in and are waiting to hear from you.
RipNDip
has a sense of humor and has referenced the theme song to a relevant TV show to connect with their shoppers.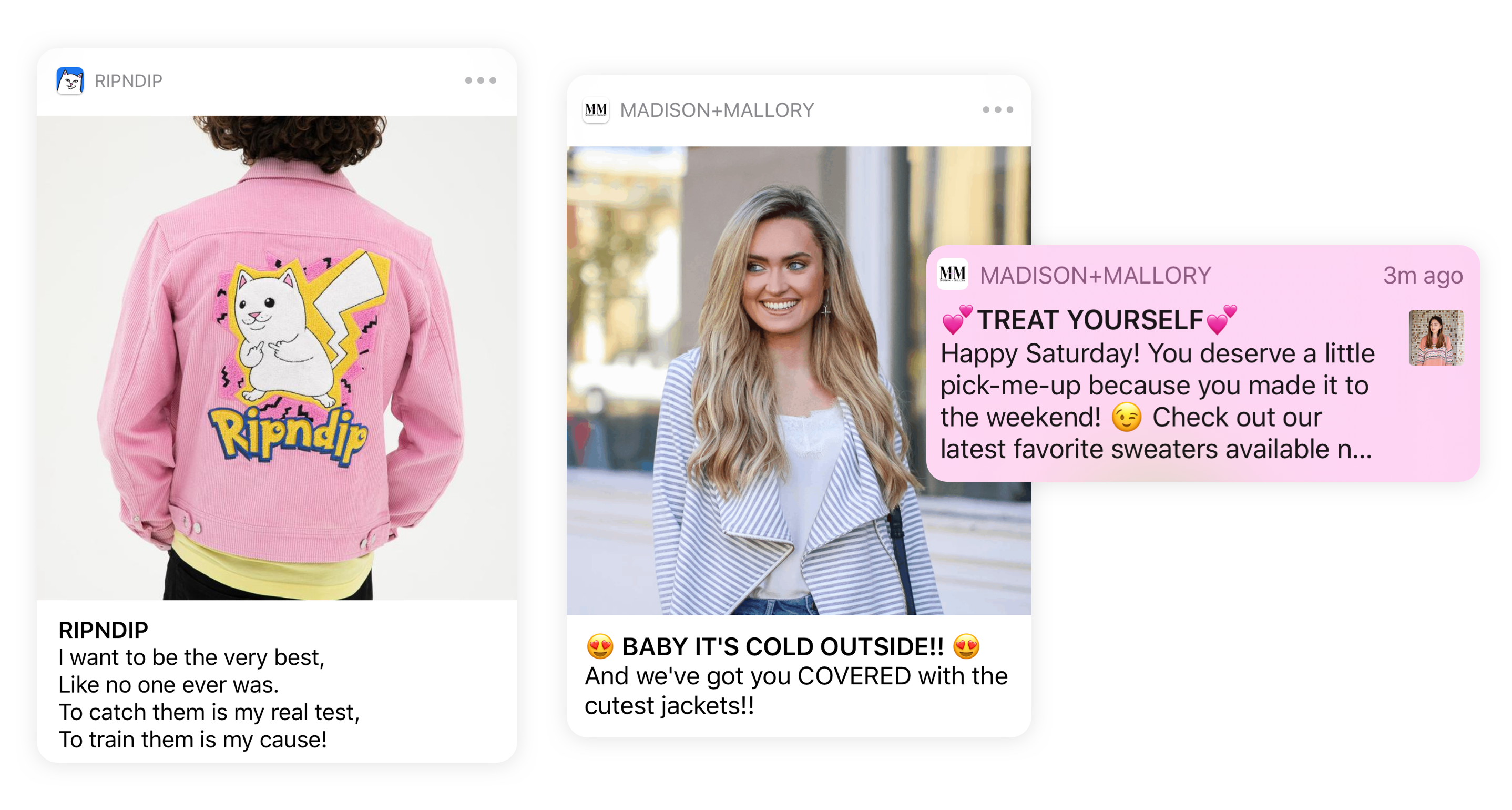 Personalize Your Shoppers' Mobile Experience.
It's no longer enough to treat all shoppers the same. AI personalization based on your shoppers' behavior will make your mobile marketing highly-relevant and generate more sales.
Klaviyo
is an amazing personalization platform that allows any Shopify store to engage shoppers with automated and segmented push notifications. Advanced targeting can increase reaction rates 3x and personalization 4x. Further, tailoring the send times for each user increases conversion by 40%.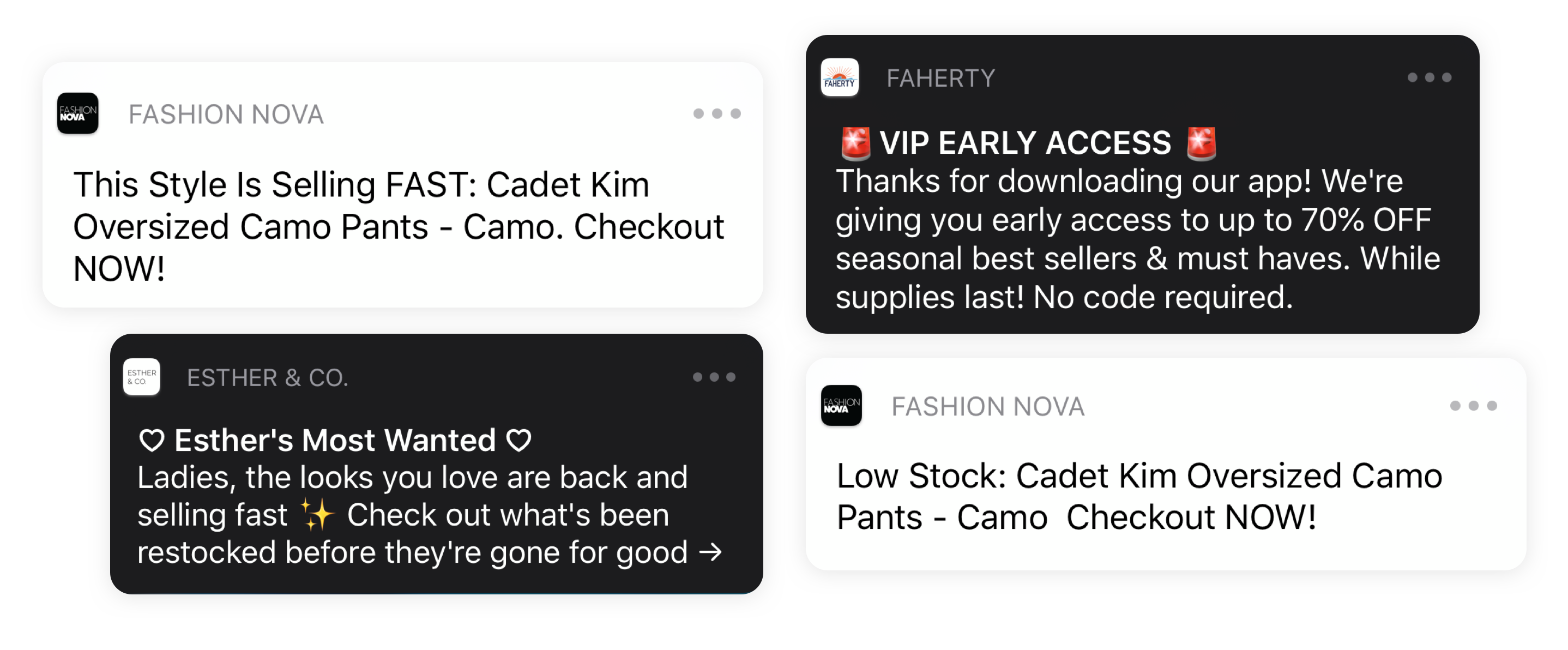 Impress with Rich Push Notifications.
With Tapcart, you can send rich push notifications with images, videos, animated lookbooks and more. Rich push notifications let easily create a Gif of your products or collections. With this dynamic push notification, you can add up to 5 images that will take customers directly to that product or collection.
Urban Airship
push notification statistics find that using rich push notifications can increase open rates up to 56%.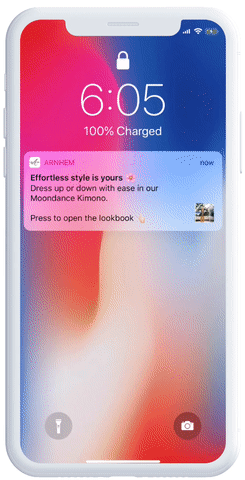 2020 is the year of mobile, with smartphones as the primary interface that lets us interact with the world around us. With Tapcart's mobile solution, you can send push notifications with just a click of a button and connect with your customers in a whole new way. To learn more about the benefits of a mobile app and the Tapcart platform,
get in touch with us
.