With more than half of all online shopping coming from a mobile device, it's extremely important that your ecommerce store is mobile responsive (
source
).
Follow these tips to grab shoppers' attention whether you have a native mobile app for your ecommerce store or are simply interested in getting more from your mobile marketing:
1) Capitalize on data to acquire users
Facebook's data-driven attribution analyzes data from the actions of users across multiple devices and channels — including paid and organic. Here's how to set it up on mobile:
Go to your Facebook ads manager and create a new campaign.
Set your marketing objective, name your campaign, and click the "Continue" button.
Scroll to where it says Placements > Edit Placements > Select "Mobile" only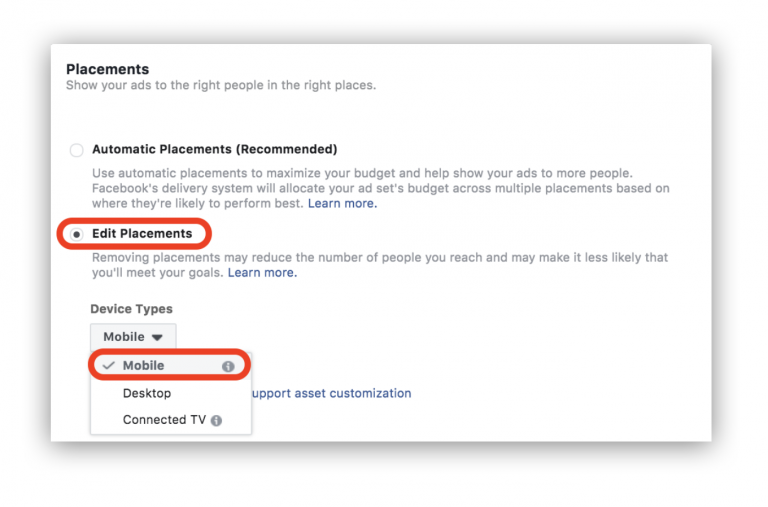 2) Ad copy
You can think of a phone screen as a smaller version of a desktop, but you can't treat written content the same way. It needs to be concise, short, and bite-sized to capture your shopper's attention. Here are a few winning tips:
Since most of your traffic is on mobile, try using mobile language to improve the mobile conversion rate. Test relevant phrasing like "free shipping on mobile" or "shop on-the-go" to target your mobile users.
You can do this with IF Functions. You can set up IF functions to change your copy depending on the device the user is on.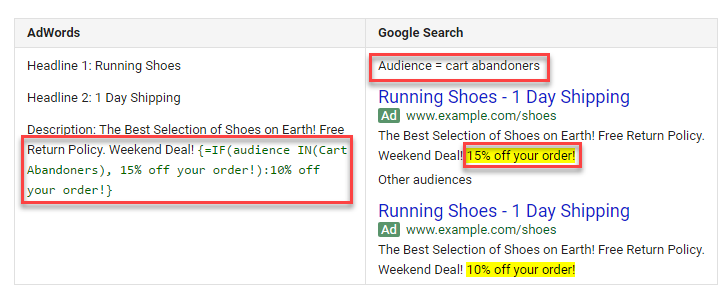 3) App Store Optimization (ASO)
Having a mobile app will not only give you precious mobile real estate, but it will also improve your search engine optimization (SEO) too. Here are a few things to think about to get the most out of your optimized App Store listing:
Choose relevant keywords to optimize your listing and increase visibility. Make sure to do your research by checking out competitor keywords and looking for suggestions in Google's autocomplete feature.
Keep in mind, in the Google Play store you can use keywords in all of the fields: title, description, the developer name, URL and even in reviews. In the App Store, you have fewer places to introduce keywords: app name, subtitle and the keywords field.
Check out our ASO guide for strategic tips to be top of the search to stay top of mind.
4) Remarketing
Even if you have already converted a customer, there's always a chance to get more from them. It's cheaper to retain an existing customer than to acquire a new one. Here's how you can do this:
Create a Facebook Retargeting campaign so that when someone visits your website, you can retarget them on Facebook and Instagram using a Facebook pixel.
You can also set up a pixel for traffic that visits a specific product page by using an ad-set to remarket those exact or complimentary products.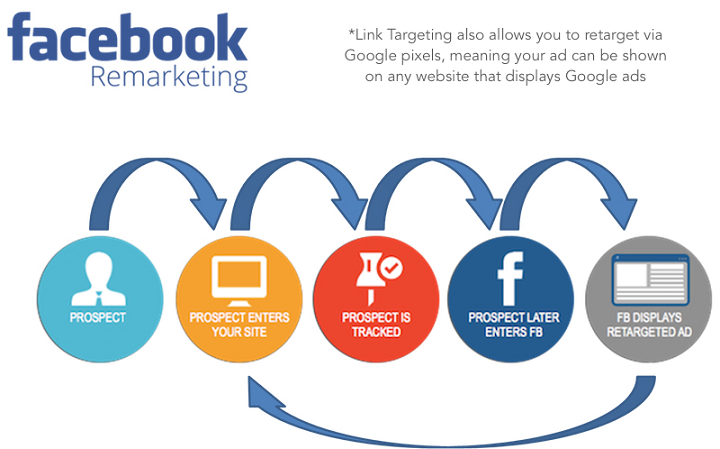 Image source.
5) Localization
Localization is a way to customize your app to adjust its setting depending on the location of the user. In addition to translation, here are a few other ways you can target customers through location:
The most effective strategy is to send geolocation triggered push notifications, these are notifications sent to everyone within a few miles of your store. This is a great strategy for omnichannel marketing if you have a physical store and want to connect your mobile shopping experience to it.
When building your mobile app localization strategy make sure to look beyond spelling errors. Be sure to consider the misallocated text, cultural compliance, and politically sensitive content.
6) Push notifications
There is huge potential when it comes to push-notifications because you can connect to your customers instantaneously. The open rate is comparable to SMS marketing, which is 98%, compared to traditional email campaigns of 20%
(source)
. Here are some effective push notification strategies to ensure engagement.
•

Offer sale incentives: Sales, discounts and loyalty rewards are great incentives to sign up for push notifications and click-through rates.

•

Limited products and time-based sales notifications create a sense of urgency.

•

Loyalty rewards

•

Publicize sales and events: Send bite-sized announcements for product launches or other promotions.

•

Send appointment reminders for service-based businesses: Increase appointment show rates by sending timely reminders.

•

Customer surveys (the shorter the better!) e.g. "We want to know how we did! Reply and let us know."

•

New product notifications

•

Emojis
7) Mobile-Only Social Media
Whatsapp, Snapchat and Instagram are purely meant to be accessed on a smartphone or tablet. Advertising to these specific channels will give you a higher return on your mobile strategy because users are guaranteed to be on their phones. Here are some tips to do this successfully:
Try carousel ads to create more compelling content! They look great on mobile and are more dynamic than a single image and can showcase different elements of a product or show multiple products. They also give you the opportunity to tell a story or message. Reformation does this by explaining the mission and process behind each different article of clothing with each slide.
Take advantage of the wildly popular Instagram Stories. The Instagram Stories algorithm is in your favor compared to when you post on the feed because it appears at the TOP of the home feed. So the more you post the more visibility your Stories will have. The best part is you don't have to spend as much time on the quality of the posts since Stories disappear in 24 hours and are supposed to be more realistic, spontaneous and fun.
8) Live-streaming
The power of live-streaming is that it only appears live once so it can create a fear of missing out (FOMO) effect if you don't check in. Live-streaming gives users the human connection they want with the brands they follow. Facebook, Twitter, and Instagram all take advantage of this tool.
9) Mobile Payments
As mobile security improves and global app revenue rises, mobile payment diversity is increasing as well.