There's a silver lining to everything.
When we think about the impact of a pandemic on our global economy, it is only natural to focus on the negative consequences. It's devastating to see what is happening throughout the world. In regards to our ecommerce community, our hearts go out to the businesses that heavily rely on retail and wholesale at this time.

However, when disaster strikes, it can also be an incredible opportunity for reflection and a time to consider how we're going to operate in this new normal. With Coronavirus, the world is forced to slow down and many of us are staying at home, which has drastically changed consumer buying behavior. We are no longer going into stores and buying one or two items at a time. Instead, we're buying in bulk online to stock up for future implications of what is yet to come. As the pandemic continues to evolve, so will our reactions, and each day is a moving target.

The saving grace in all of this is during times of uncertainty; people turn to what they know and love. This makes it an excellent opportunity for you to connect with your customers and show them how much you care. Focus on what you can control and make

This can be an excellent opportunity for you to show your support to your community by adjusting your ecommerce strategy to reflect the needs of your customers. Engaging them with small offers will go a long way.

Within this article, we will cover how the Coronavirus is impacting the world of ecommerce and provide some actionable next steps your brand can take to help you weather the storm.

The current state of ecommerce in the Coronavirus world.
While specific sectors like travel and real estate have taken a massive hit, ecommerce, in general, remains steady at this point. Particular industries are seeing a surge in ecommerce growth as a result of the virus, including health, household, food and beverage, electronics, and more. According to RedSeer Consulting, these industries have seen a 45-50% increase in GMV overall in the first two weeks of March compared to the same period in February (
source
). Other industries that have also seen an uptick are games, arts, and crafts to entertain the kids at home and some bored adults.
Even if your products aren't necessities on the surface during a pandemic, there's still a unique opportunity to take advantage of everyone being in quarantine. An example of this is people may be modifying their home working environments to become more work-friendly. A new desk chair or planter can help brighten someone's day and make working from home more enjoyable.
China is bouncing back.
According to McKinsey & Company, China has begun to recover from the virus. 80% of companies overall have restarted, and 100% of large enterprises have as well (
source
). Although China is two months ahead of us in terms of the reaction to the virus, this shows early signs that we won't be in this thing forever.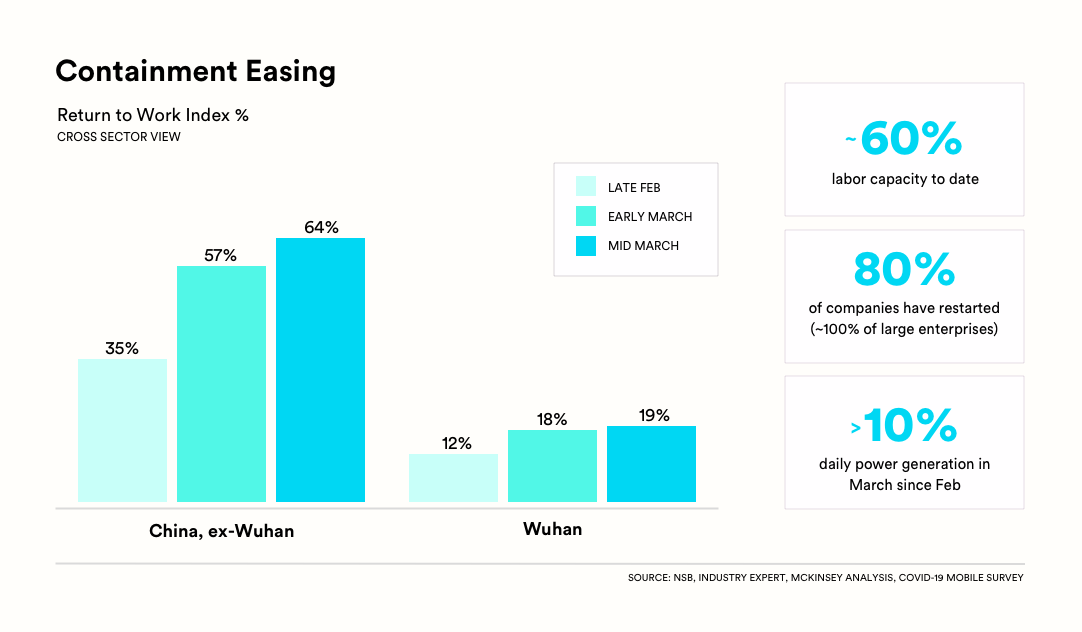 We all want to know when this will end, but for now, how can we better design our actions (thinking both short-term and long-term) to become more resilient?

Reprioritize engagement and retention over conversion.
Other industries that have also seen an uptick are games, arts, and crafts to entertain the kids at home and a lot of bored adults.

DTC brands are taught inherently to think first and foremost about conversion. While conversion is arguably the most important part of running an online business, in times like these focusing on conversion and pushing sales may not be the most tactful way to retain your most loyal customers. This may seem like an obvious callout, but we're shocked to see many brands are not adjusting fast enough and are continuing to be self-promotional in their marketing efforts.

Right now, the priority should be on helping customers and supporting them with what they need. All this means is the strategy will need to shift slightly. We get that businesses still need to run in this new world, but changing up how you communicate with your community will make all the difference.

One of the biggest benefits of having a mobile app is that you can communicate directly with your customers in real-time with push notifications. Push notifications give you back control over your audience serving as your own sales channel. This means you can spend less on paid advertising and access your customers instantly from their lock screen.

Over the last few weeks, we've seen several merchants who have reached out with a small discount code or an offer to extend free shipping and that more human connection has proven well for both the company as well as the individuals. A simple message of 'we have your back' can help stimulate your own sales as well as the economy.

Here are some examples of brands addressing COVID-19: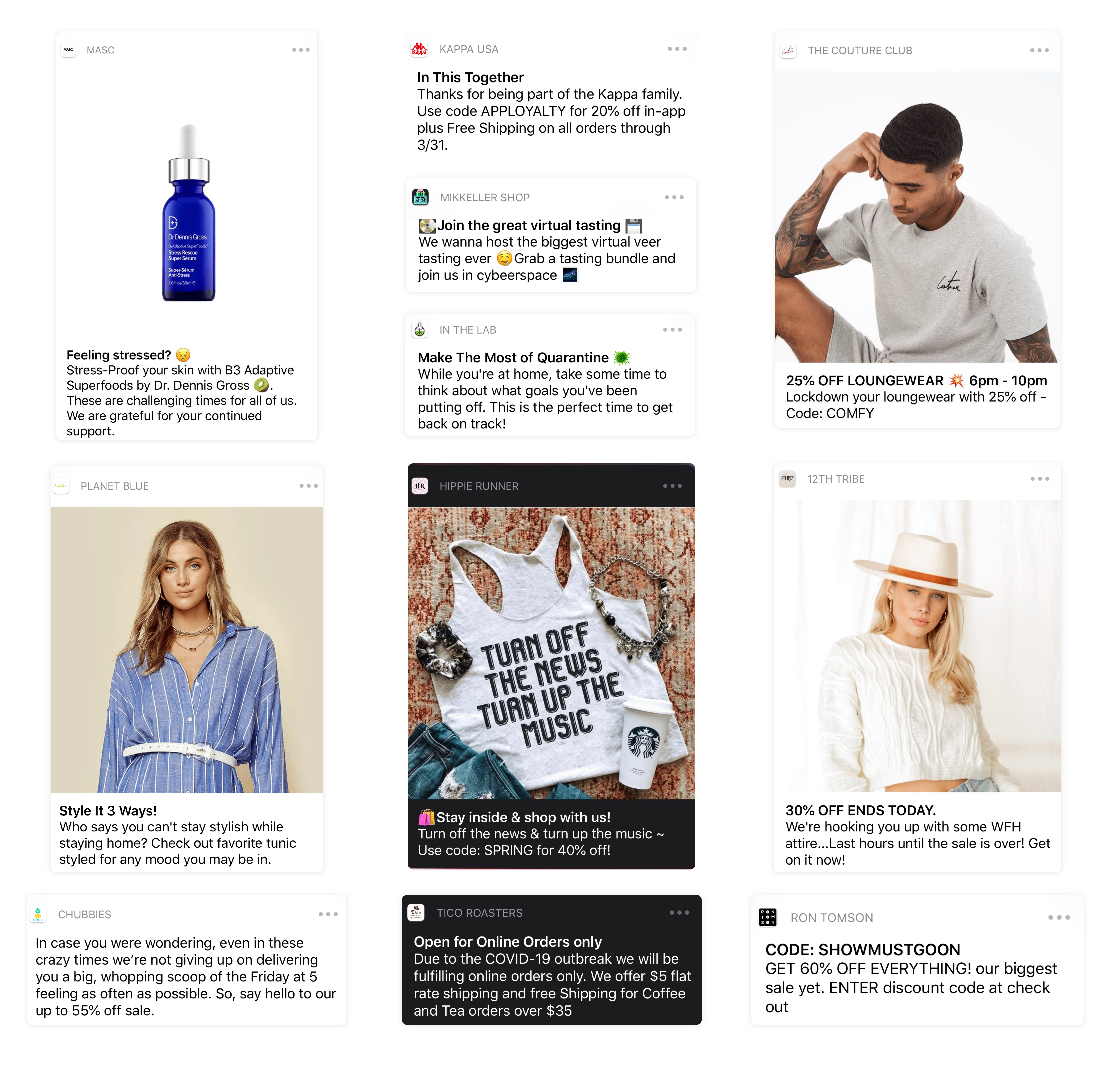 Pro tip: Every touchpoint does not need to be tied to revenue. Your message should be positive and show empathy around what your customers are going through. On that note, another excellent strategy is indirectly addressing COVI-19. This helps your brand's mobile messaging stay authentic to how your brand normally connects with your audience.
If you're reading this and don't already have a mobile app, now is a great time to invest in one because when people can't get to the store, they can at least reach out and grab their phone. You're not trying to be overly promotional here, but when stores are closed, it can be a great option to recoup some of your lost sales due to retail store closures. If you do decide to launch a mobile app, you can promote your app by taking advantage of the #WFH movement on social media.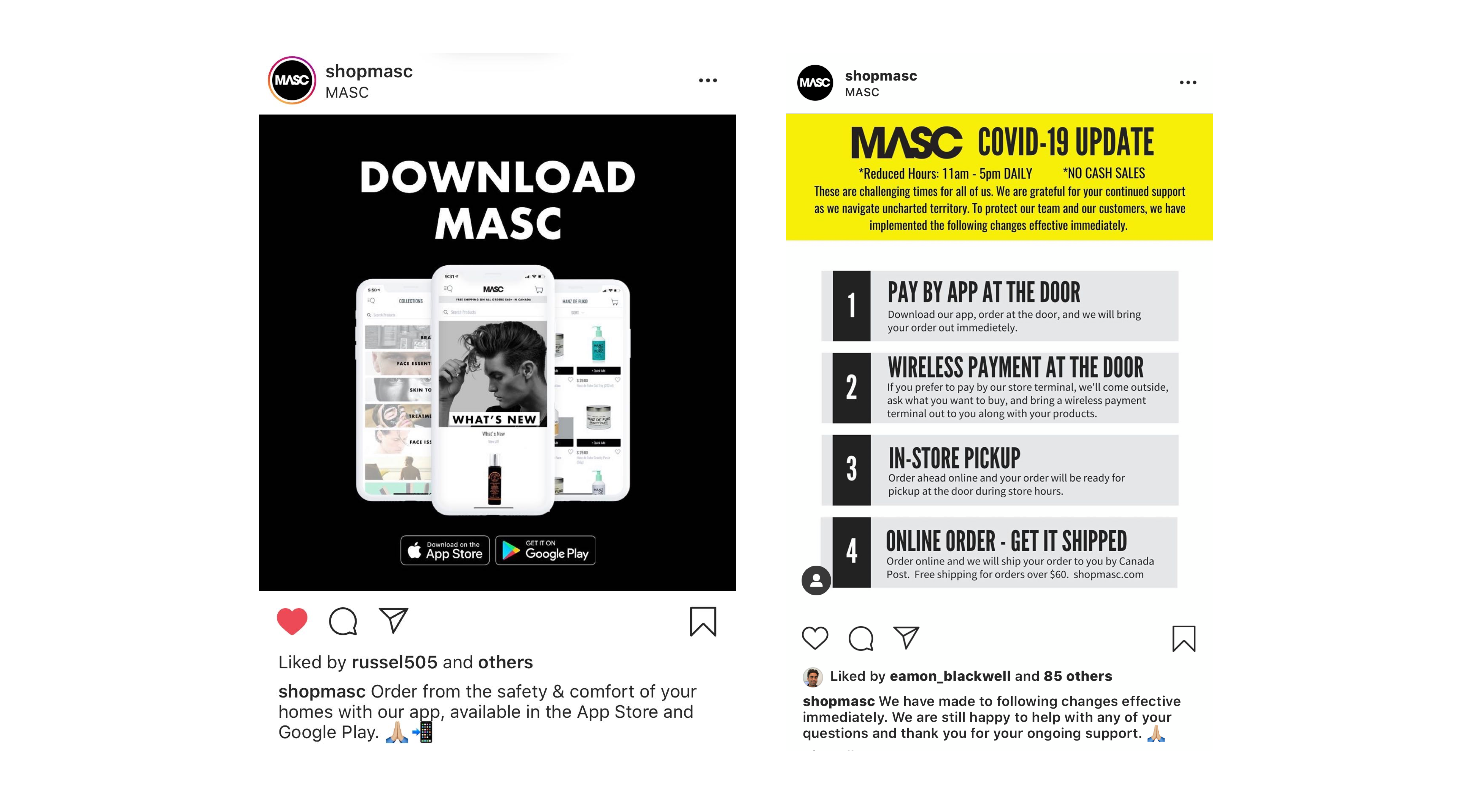 The next steps of this new normal.
We're all learning how to adapt to this new normal, and there are no rules for how to run a business during these unprecedented times. The best advice we can give is to focus on customer service, and in doing so, your customers will always remember how you treated them during this tough time.
Marketing is all about forming a connection with your customers, but remember to do so in a sensitive way. Take a look at your marketing plans for the next two months and make sure they still make sense, given the context of what is going on in this world.
This is a unique time, and everyone has a flooded inbox of emails relating to how companies are changing their operations. It's a great time to send a push notification to check-in and see how your customers are doing and offer support. By reaching out authentically, it can be a small step in rebuilding consumer trust.
We wish our ecommerce community the very best during this trying time and want you to know that our team is standing by with anything you might need. Don't hesitate to reach out if we can help in any way.
Don't already have a mobile app and want to learn more?
Get in touch with us
.